Written by Jan-Willem Oomen


A Story of The River of the Tiger
Fifteen years ago, tigers in the southwest of India were in trouble. Since then, a remarkabe transformation has taken place, unexpectedly helped by the occasional wildlife enthousiast. There are tigers in abundance now, in Nagarhole National Park. The art of storytelling plays a key role here, and visitors from around the world pass those stories on.
So this must be what it feels like. Being an explorer. Standing on the banks of the Kabini River, staring in awe at the remote forests and jungles of the wild parks southwest of the Bangalore megacity. We have travelled to this otherworldly arena of prey and predator, to shoot the next part of our documentary. Our mission is to search and film our main character. We heard so much about him. A rather mysterious, former stockbroker, who then gave his heart to wildlife conservation.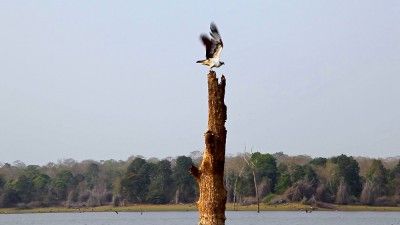 We're looking forward to find him somewhere upstream. Maybe in the forest. We will record and film the remarkable story of a man, who's nickname is 'Supernaturalist' and who actually listens to the name Sarath Champati. 
There's not much time. What a relief it shall be, to finally have met him. When the interview and all the raw film look good on our laptop screen. When we have all the data transported back home to Holland, stored on two backup disks. We will be guarding these data, as if they were the Treasure of the Sierra Madre. Our mission will not succeed otherwise. We are Ellen van den Honert, producer, singer-songwriter and co-director, and Jan-Willem Oomen, director of this part of the documentary, including sound. It's the second stage in the production of a documentary, after a visit to Hawaii, where Jan Stürmann acted as director, camera- and sound-specialist.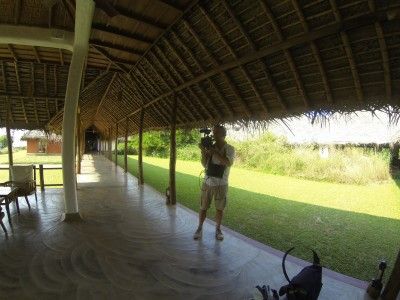 We have five days to get ready for our rendez-vous with Sarath. In the meantime, we are exploring, researching and interviewing key persons involved in wildlife conservation in the Kabini district, where we are right now. Production-wise, it's heaven and hell. Ellen van den Honert: "Imagine standing in full sun on the river bank, 45 degrees celsius, talking with hands and feet to make yourself clear.."
At least we managed to find Shan. Without our guide, we would definitely be lost in the woods. Moreover, he masters the art of storytelling about wilderness. A subject we will soon get to learn al lot about. Shan is a naturalist and guide on boat- and land safari trips in Nagarhole National Park, and one of Sarath's many apprentices.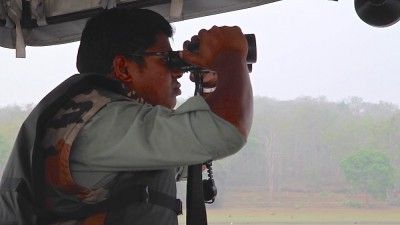 Since he arrived in the Kabini region, Sarath has taken up the effort to teach naturalists the art of effective storytelling about wildlife protection and conservation. As a result of this, his co-naturalists adopted the habit to report him on the latest behaviour and whereabouts of tigers, elephants, deer, birds and other local wildlife. 
And probably about us. Now that we've met Shan, it wouldn't be a surprise to us that our arrival has already been reported to Sarath. He's looking over our shoulder, which makes our meeting more certain and the expedition all the more exciting. Directing a documentary, we are used to act as hunters for stories, but this time we get the chance to feel like prey.
We embark on Shan's boat and wonder what kind of a magical place we've ventured into. The river widens into a huge artificial lake that took shape years ago, in that process also flooding part of the forest. Even some Hindu temples are still hidden below the water line. All this in order to provide irrigation for agriculture, but as a side effect, these waters provide potable water for the diversity of wildlife, from close to afar. Tree trunks are sticking out from the water surface, home to eagles and other predators, waiting for the right moment to catch some fish. Otters are playing like dolphins, and crocodiles are patiently floating near the shore. Wild boars and deer are roaming the grassy riverbanks which have the width of a tennis court, bordering the jungle. There, tigers are hiding to compete for prey with wild dogs and crocodiles, while elephants and monkeys are making their way through the forest, aiming for a drink in the Kabini reservoir.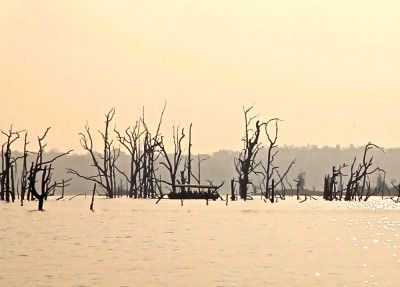 Who would have thought that this kind of balance in nature is still possible? It's because of people like Shan, telling his visitors about what's going on in the forest.
"Without a good story, there is no way to conserve nature", Shan says. "Our guests would simply book a trip to spot the tigers, birds of prey and wild dogs, and go home afterwards. But we need to tell them the story, why these animals can be seen and photographed in the first place."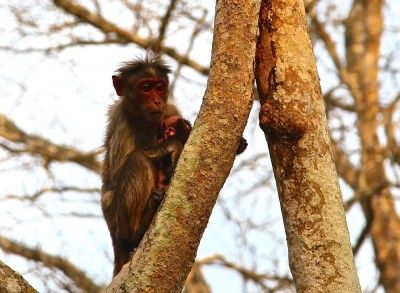 Shan later shows us photo's of tigers and wild dogs, roaming the riverbanks for fresh water and prey. Nagarhole is home to 65 to 75 tigers. One can call this a 'full house', meaning the tiger population is almost at saturation level. So you can't really have more tigers than that, because tigers are territorial animals and they can't survive with less territory. These are very healthy numbers, among the best in the world. It's one of the jobs of the naturalists, engaged with the national park, to maintain this balance. 

There are many stories to be told. That cattle eats the same grass as wildlife for example, and that cattle spreads diseases among wild dogs. Or that collecting fire-wood by tribals, for cooking, used to be a major cause for forest fire. Shan: "The local tribes are used to passing on information by telling stories, it's their tradition. Telling our particular stories resulted in exactly what we were aiming for: they are no longer collecting firewood, and cooking on LPG now."

That is why we are so curious about storytelling during this mission. For not only will it be our task to get to know and record this ecosystem. We are also explorers in another sense. Throughout the documentary, being shot in different parts of the world, we are searching for answers to the one and only question: how music, dance, painting and any other art forms, or artists, can contribute in reconnecting us, as human species, to wilderness. And in this case, here in Kabini, it's the storytelling itself that, being a form of art, plays a major role in bringing awareness to conservation. 


Along the Kabini River walks a man, wearing a traditional looking shiny white dress. He's one of the honourable members of the local Kurubas tribe and player of the Kalal, the wooden flute he's holding in his hand. It's made of the Frangipani tree. Shan introduces us to him, and translates the conversation.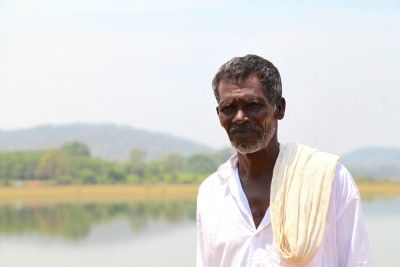 Ellen has to repeat her questions over and over, making sure to get it right, and also repeating things directly to the flute player, even though he can't understand her. But it couldn't be more interesting to hear his thoughts about the relation between music, dance and nature.
"The music instruments, the rhythm, the practice and the way of teaching, is brought by God, and God is the forest. Nature has given this music to us. To be happy, to celebrate".

We had been like sponges these past days, absorbing a lot of wildlife knowledge, and now we were finally ready to meet with our main character. We ended up finding him in the library of the Orange County Kabini resort, a stunning location overlooking the riverbanks, where he is the Associate Director of Conservation.
Sarath Champati has made quite the journey. After graduating from the Delhi School of Economics as a sociologist, in the nineties of the last century, he became a stockbroker. But wildlife had always been his passion. Almost twenty years ago, he applied for a training to become a naturalist in the Kabini district, and he got selected.
"So Kabini is most close to my heart, because this is where it all started."

It also gave him the opportunity to travel the world and investigate wildlife around the globe. And so he started training and mentoring many naturalists all over India, up till today. "It seems that I played a role in their careers." He starts laughing. "That's probably why they call me a supernaturalist."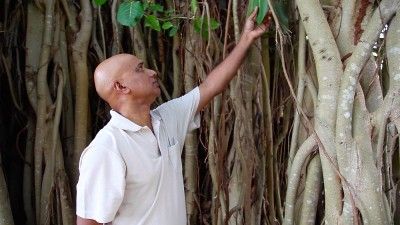 Key to being a naturalist is passion for wildlife. "They have to tell the real story behind conservation. And enjoy nature of course. The visitors, the audience, will go back to their home and workplace, and tell a lot more people about the story of Kabini, and how the wildlife is doing well there. That's how we try to get kind of a ripple effect".
But there are not only visitors from all over the world to be found in the wild parks around Kabini. Much older is the presence of the indigenous tribes, the people from the forest, like the fluteplayer we met during our journey. 

Sarath nods, eager to speak about this. It turns out that the local tribes were not particularly convinced about his plans to transform the Kabini-region into a project of wildlife conservation. "They would obviously ask the question, what is conservation, how does it change our lives? So it took a long time to really convince them of our message. Saying that, these forests are not only number one important for the wildlife, but also for the people around. Unless you conserve and preserve, it has a lot of other repercussions."
www.janwillemoomen.nl