We believe the artistic community has a big role to play in wilderness conservation. 
Artists not just as inspirators, but as active players in conservation, creating effects and results with their work.


Wild About Music Foundation is currently working with a creative team to finish a documentary film that explores and clarifies the connection between art, wilderness and people. 
The website for the documentary film
www.thereisaplaceonearth.com
We also write a part of the music for the movie. Here's a fragment of "Kohola-lele".
Our Vision
Reconnecting us to wilderness through art

Wild About Music is a foundation that encourages and empowers a wide variety of artists worldwide to take a leading role in wilderness conservation and to restore in people a sense of connection and hopefulness towards this kind of conservation. 

Artists have forever found inspiration for their work in nature.
With the immense challenges facing our wilderness today, there is a call and need for a new perspective: The artist as an active player in conservation - creating awareness, inspiration and positive results around the value and importance of nature. 
As the environment deteriorates, many living species (plants and animals) are loosing big parts of their populations and habitat. At the same time more than half of humankind is living in urban areas, and this number is growing to 60% by 2030. The result of both developments is the same: less and less people (and children) will be able to get a direct experience of wilderness or wildlife.
 
The less we know and love the wild, the less likely we are to fight for its survival. Our conservation efforts cannot be successful in the long run if we don't also establish emotional connections between wilderness and people.
 
Art ought to play an important role here. Our stories, rituals, myths, music, movies and visual arts can provide the much needed language to shape these connections. 
 
By developing a platform for these art forms, focused on wild nature, we can begin to imagine more positive images for the future of our planet.
~ To experience wilderness, we need to explore it deeply ~
~ To preserve wilderness, we need to leave it alone, unexplored ~

Prize Winner University of Amsterdam Alumnus Prijs 2018


The making of our documentary won an encouragement prize at the University of Amsterdam. The prize is meant for alumni who make a valuable contribution to society and are capable of inspiring others.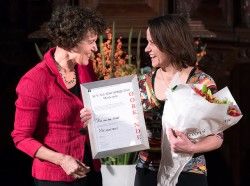 Geert van Dam, president of University of Amsterdam's executive board, hands the 3rd prize over to Ellen van den Honert.
Having been the basis of all our sophisticated society, doesn't wilderness itself have a right to live on?
~ Mardie Murie