Wild About Music Foundation is based in the Netherlands and registered at the Dutch  Chamber of Commerce (Kamer van Koophandel) under number: 61192279


Mission of the foundation:
 
* To inspire and bring awareness to adults and children about the necessity and urgency of wildlife conservation (flora and fauna) on earth.


The foundation aims to reach her goals through:

* The creation and production of musical and otherwise artistic projects that have wilderness as their subject.
* The creation and production of musical and other kinds of events, workshops, exhibitions and publications that have wilderness as their subject and/or support wilderness conservation.
* The motivation and empowerment of professional musicians and other artists to use their talents for the conservation of wild nature.
 
Prize Winner University of Amsterdam Alumnus Prijs 2018


The making of our documentary won an encouragement prize at the University of Amsterdam. The prize is meant for alumni who make a valuable contribution to society and are capable of inspiring others.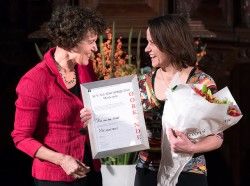 Geert van Dam, president of University of Amsterdam's executive board, hands the 3rd prize over to Ellen van den Honert.
Having been the basis of all our sophisticated society, doesn't wilderness itself have a right to live on?
~ Mardie Murie