Meet our creative team! 
In the meantime many more musicians, artists and conservationists have joined our creative effort.
Gina Leibrecht has been working in film since she received her B.A. in Telecommunications and Film from the University of Oregon in 1990. She currently works and resides in the San Francisco Bay Area, working on documentary, commercial, and corporate projects for domestic and international audiences.In 1998 she began collaborating with Les Blank on All In This Tea, which she co-produced, co-directed, and edited, and which had its world premiere at the Berlin International Film Festival in 2007, screened in over 40 festivals world wide, and was broadcast on the Sundance Channel. Website

Frank Martin is a Northern California native who continues a career as a pianist and keyboard player that has found him performing with everyone from Lady Gaga, Mary J. Blige, Madonna, to Stevie Wonder, James Taylor, Elton John and Bruce Springsteen.  Production credits and sessions as the Arranger/Producer include artists as varied as Al Jarreau, Tuck & Patti, Dori Caymmi, Randy Brecker, Patrice Rushen, Joey DeFrancesco, Buddy Montgomery, and Alex Acuna.  He is a Governor for the National Academy of Recording Arts and Sciences (NARAS) and is an adjunct Faculty member in the Jazz Dept. of the University of California at Berkeley.  Website


Jan Stürmann is a photojournalist and multimedia producer with an eye for capturing the essence of the human condition. His work portrays places and people that are both surprising and revealing. Based in California and born in South Africa, Jan studied photography at Pretoria Technicon. His publishing credits include The New York Times, The Washington Post, The Boston Globe, Time, Newsweek and Marie Claire. Most of his work focuses on NGO, corporate and editorial clients harnessing the story-telling potential of multimedia.   Website


Ellen Honert is a contemporary jazz singer and songwriter from the Netherlands. In 2006 she teamed up with Frank Martin to create her debut release "Breath of the Soul, featuring a range of artists, including Alex Acuna, Tuck & Patti, Abraham Laboriel and Dori Caymmi. In 2010 followed her second CD "Hummingville", another successful collaboration with Martin. In the past years she has become active in the protection of wilderness, by donating volunteer time to the Hawaiian Islands Humpback Whale National Marine Sanctuary on Maui.  She is the initiator of the Wild About Music foundation, that has an international ambition and is based in The Netherlands.  Website
Prize Winner University of Amsterdam Alumnus Prijs 2018


The making of our documentary won an encouragement prize at the University of Amsterdam. The prize is meant for alumni who make a valuable contribution to society and are capable of inspiring others.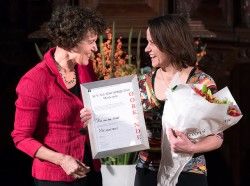 Geert van Dam, president of University of Amsterdam's executive board, hands the 3rd prize over to Ellen van den Honert.
Having been the basis of all our sophisticated society, doesn't wilderness itself have a right to live on?
~ Mardie Murie