Harry Starren is the former CEO of de Baak VNO-NCW, the premier leadership development institute in the Netherlands. During his 15-year tenure, the company acquired venues in The Hague, Driebergen and Antwerp while also establishing partnerships with renowned international partners. It was during this period that de Baak established its reputation as being a platform for innovation. He is a recognized expert on leadership and entrepreneurship and widely acclaimed as both a lecturer and facilitator. Harry's formal education includes History (University of Utrecht, BA), Political Science /Public Administration (University of Amsterdam, MA/drs) with postgraduate studies taken at Harvard and the University of Maryland.
Aimée Leslie is doing a Ph.D. in leadership and sustainability at the University of Lancaster and Cumbria in England, with a focus on developing traceability in the Peruvian fisheries for mahi mahi and jumbo squid. She has a Master's Degree in Environmental Management from the Inter-American University of Costa Rica and a Master's Degree in Education for Sustainable Development from UNED in Spain. She has worked for WWF for almost 10 years, as WWF International as Global Program Manager for Cetaceans and Sea Turtles based in Switzerland from 2011 to 2017, and since 2018 as Director of the Marine and Wildlife Program of WWF-Peru.
Before that, she worked for The Leatherback Trust in Costa Rica, IFAW in Mexico, and Greenpeace in Argentina, where she began her conservation career in 2005. She was a member of the IWC Scientific Committee, the IUCN Marine Turtle Specialists Group, and the CMS Bycatch Working Group. 
Ellen van den Honert has a degree in Policial Science from the University of Amsterdam. She has 10 years of experience with working in various companies in Europe and California. An enthusiastic entrepreneur, in 2010 she introduced and established an early childhood music program in Geneva, Switzerland. During all this time she had a parallel career as a singer, songwriter and performing artist (Ellen Honert), successfully releasing two albums in the US and Europe.
Since 2015, she is the initiator and motor behind Wild About Music Foundation, through which she produced and directed the feature length documentary There Is A Place On Earth, to be released in the spring of 2021.
Prize Winner University of Amsterdam Alumnus Prijs 2018


The making of our documentary won an encouragement prize at the University of Amsterdam. The prize is meant for alumni who make a valuable contribution to society and are capable of inspiring others.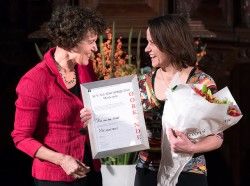 Geert van Dam, president of University of Amsterdam's executive board, hands the 3rd prize over to Ellen van den Honert.
Having been the basis of all our sophisticated society, doesn't wilderness itself have a right to live on?
~ Mardie Murie