The Dutch tax administration has designated Wild About Music foundation as a "Public Benefit Organisation"(PBO).
(In Dutch: Algemeen Nut Beogende Instelling, ANBI)
At least 90% of the efforts of a PBO need to be focused on the general good. 
 
Public Benefit Organisations are offered a number of tax advantages:
 
A PBO does not pay Dutch inheritance tax or gift tax on inheritances or gifts that the institution allocates to the general good.
A PBO does not  pay Dutch gift tax on gifts that the institution makes for the general good.
Natural and legal persons making donations to a PBO may deduct their gifts from their Dutch income tax or corporate income tax.
Prize Winner University of Amsterdam Alumnus Prijs 2018


The making of our documentary won an encouragement prize at the University of Amsterdam. The prize is meant for alumni who make a valuable contribution to society and are capable of inspiring others.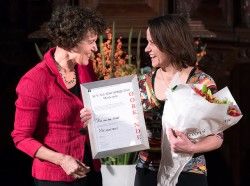 Geert van Dam, president of University of Amsterdam's executive board, hands the 3rd prize over to Ellen van den Honert.
Having been the basis of all our sophisticated society, doesn't wilderness itself have a right to live on?
~ Mardie Murie