Written by Ellen van den Honert
 

How does one cut a 45-ton humpback whale free from entanglement in fishing gear?

"First, do NOT get into the water!"
 
This is what Ed Lyman told us when we met him in Kihei, on the island of Maui, Hawai'i.
Over the years, he and his team developed a boat based technique, that has freed over 1200 large whales worldwide.
Even though this is an impressive number, it is only the tip of the iceberg. There are many more whales getting entangled, and for some populations entanglement poses a major threat.
 
Lyman coordinates the large whale entanglement response at the Hawaiian Islands Humpback Whale National Marine Sanctuary. "We say entanglement response, because it is not about cutting every whale free, but about gaining information towards prevention in the future".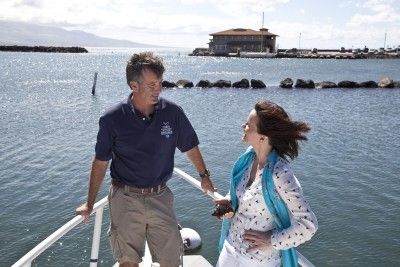 We came to Maui to film the first episode of the Wild About Music documentary. The movie investigates the relationship between art and wilderness. It explores how stories, music, rituals and visual arts can become more vital tools in the effort of wilderness conservation.
Before heading off in March, we thoroughly planned out our interviews. But upon our arrival, we found ourselves pleasantly surprised by unexpected meetings and events.
 
First, Air Maui graciously offered us a sponsored flight on one of its helicopters, so that filmer Jan Stürmann could take some shots from the air. It was stunning to first see Maui and then also the island of Molokai, with a 3000 feet drop into the ocean.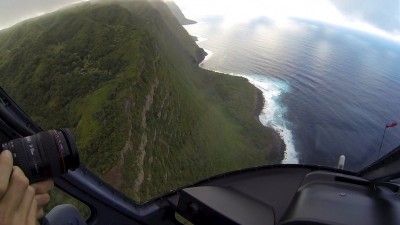 Our second surprise was meeting artist Phil Sabado. We got to spend a whole afternoon with him and his wife Christine, and found they share a strong vision on conservation through art. 
Phil's paintings are deeplyy rooted in both Hawaiian culture and nature. Before any of his works leave his atelier, he calls in his kumu, or teacher, to check if the work he has produced is culturally correct. 
 
In our visual culture of today, Sabado feels the stories of hawaiian culture and nature can come alive via his paintings.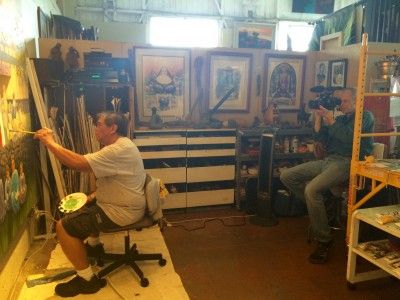 Last but not least, we met with Kimokeo and Ka'au. After rich conversations with these two native hawaiian men, we
learned, among other things, about the historical fishpond, named Kōʻieʻie Loko Iʻa, that is being built along the South Maui coastline. Stone by stone, workers and volunteers are rebuilding the wall by hand using traditional methods.
It serves the purpose of educating people and children about traditional native Hawaiian values and practices.

Kimokeo: "So that's why when we talk, we talk about a living culture, that's a living culture. We have to be here every day, or nature will have a new lesson that we will miss, you know. Like if you don't show up in classroom, you have to come back next year.."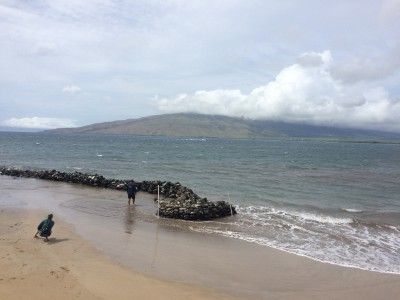 Reluctantly we left this beautiful island, knowing that Aloha is not just a greeting, but represents a whole way of life. 
Our first episode of filming for the documentary had been a success.